We Are Hiring !!We are looking for the for a passionate, young energetic Network Admin to our Research Park
Candidate should possess an Engineering Degree from a reputed College in the streams of ECE/EEE with a hands on 5.7 years' experience on network Administration and its allied works
Duties and Responsibilities- Network Administrator:
Perform a wide-range of network administration duties including installations, debugging, maintenance, upgrades, and general support for Cisco, Juniper, HP, Nortel, and Extreme network equipment
Evaluate, test, and deploy all software and hardware upgrades to the networking infrastructure.
Assist in the configuration and deployment of core and peripheral network devices, which will require continuous learning of new devices (i.e. Nexus switches, ASR routers, and long-haul optical equipment).
Proactive monitoring of all network devices, services, and servers using a combination of tools to ensure high availability
Collect and review network utilization data for capacity and planning purposes for clients and basic network infrastructure for the Campus.
Assist in developing, implementing, testing, and maintaining disaster recovery
Interface with vendors for procurement & maintenance of all IT infrastructure
Manage& troubleshoot network and Internet connectivity throughout the organization.
Work closely with the fellow tech team members to provide end-user support and issue resolution.
Maintain up-to-date knowledge of emerging tools and technology
Research,evaluate and recommend technologies to support business require
Rigorously create and maintain documentation for all processes and procedure
Collaborate with and support the work of other staff engaged in similar functions
Attend and actively participate in weekly meeting
Coordinate with the rest of the MIS team to meet the team objective
Provide emergency 24 x 7 on-call support on a rotating basis.
Perform other duties as assigned in the area's CCTV, BMS ,SOLAR  Integration and coordination etc
 Significant experience working with Linux and Windows servers and network monitoring tools.
Strong knowledge of networking, including TCP/IP, Vlans, Ethernet, SONET, switching, routing and routing protocols (BGP/OSPF), 802.1Q, and DNS.
Co-ordinate support for the Desktop/Laptop support for the user's internal users at our offices
Strong technical aptitude and ability to research & solve complex issues independently.
Willingness and ability to learn new skills and apply them as needed.
Ability to effectively communicate issues and resolutions to all levels of the organization.
Ability to maintain confidentiality with sensitive customer and internal information.
Careers @ IIT Madras Research Park  
IITMRP Overview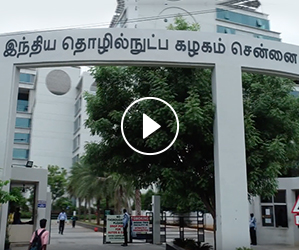 Our Partners