Explore IITMRP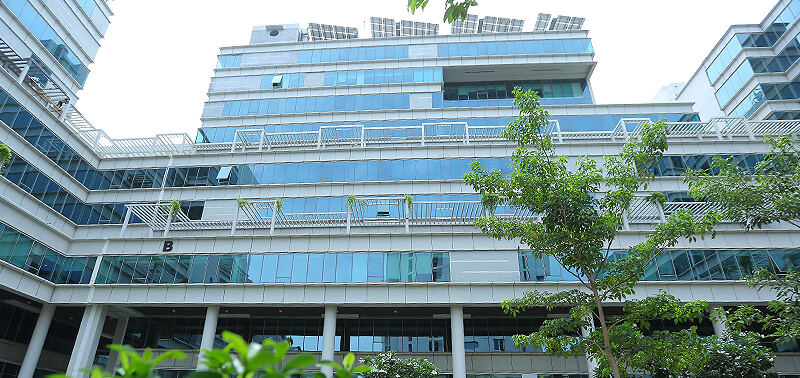 Designed by one of India's leading architects, it is spread across 11.42 acres with an elegantly curated courtyard surrounded by five individual towers that are interconnected through skywalks at multiple levels.
Buzzing with an energy that is matchless, the Research Park provides over 1.2 million square feet of workspace with several formal, informal, theme-based meeting and networking lounges to nurture, promote and sustain innovation through Industry-Academia collaboration. It retains close access to IIT Madras via the aptly named Industry-Academia Bridge. Our proximity to this knowledge powerhouse enables quick and easy exchange of ideas and collaboration between industry and academia – delivering strategic value by reducing the cycle time for innovation.
IITMRP is a self-contained campus of GRIHA three star rated compliance with state of the art services with 33 KVA substation with 100% back up power with DG sets automated through synchronisation panel and Grid connected PV solar power of One Mega watt with state of art 24×7 water supply, drainage, STP, communication, HVAC with 1700 Tr water cooled chillers . All the services are controlled and operated through our Integrated Building Management System.
Easily accessible by the mass transit system, IITMRP offers resources that inspire innovation and an environment that fosters creation and collaboration.
A Green Campus
Being an extension of India's premier Technology Institute, IITMRP aspired to build an energy-efficient campus deploying technologies pioneered by IIT Madras. Interspersed with a carpet of green in its courtyard, IITMRP has adopted clean water technologies and an Integrated Building Management System while opting for double-glazed, unitised and high-performance glass for its facade in a bid towards energy conservation. While embracing energy-efficient cooling systems, IITMRP has also nurtured and integrated home-grown innovations like DC Lighting through a Solar Inverter-less technology. IITMRP as an education and research institute seeks ways to celebrate sustainability not just as an ideal but as a practice to build into everyday routine.